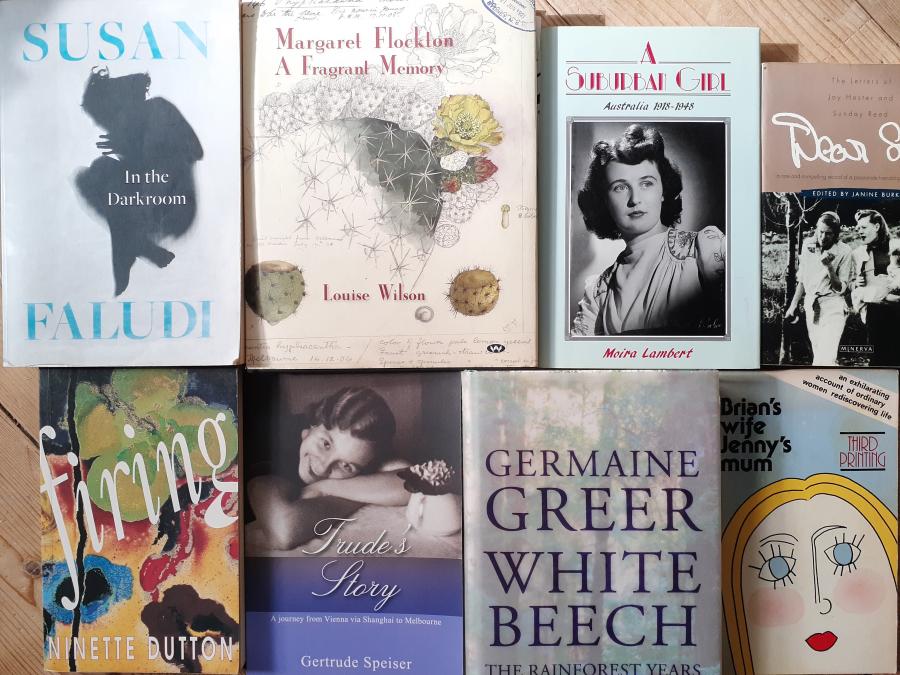 Printer-Friendly View
     Last month, for the GSV Writers discussion on 'Telling Women's Stories', some members provided lists of thought-provoking references that delve into the complexities of women's histories in Australia. Following Women's History Month, and to encourage wider thinking about women's stories,we thought we would share these lists with you, with thanks to the GSV Writers Discussion Circle.
The list can be downloaded HERE https://www.gsv.org.au/sites/default/files/references_womens_stories_.pdf 
Dr Kristy Love*,who has recently joined the GSV Volunteers' Team, edited and added to the reference lists and contributes this overview.
***
In offering this list of references, we acknowledge that it is by no means a comprehensive source of writing about and of women's histories, but we hope it gives sufficient breadth to encompass a range of experiences. 
History books tend to focus ontales of derring-do, royalty, the military, enterprise, exploration, and discovery, primarily by men and about men, often to the omission of in-depth portrayals of the lives of women. We hope this list goes some way to covering those gaps. 
The list includes several classics of feminist literature and women's rights - a must for understanding the changing political and social forces at play in women's lives. It also encompasses texts on intersectional feminism- a termfirst used by the scholar Kimberlé Crenshaw, and further developed by other Black feminists. Intersectionality has now come to refer tothe waysthat overlapping identity categories, such as gender,race, religion, ability, sexuality, class, and culture affect people's opportunities and status in the world. These books are important as they can help us think critically about howwomen's histories have been told, about the authors of those stories and about what they have chosen to include and omit in histories of women. These references can also help us become more aware of our blindspotsso that we can write more nuanced histories that encompass the complexities of women's lives.
The list includes books that provoke thinking about the Indigenous Australian women whose families were decimated by colonisation and whose children were forcibly removed under racist acts of Parliament. It includes references about sexual and reproductive rights. About the difficult paths faced by single or unmarried mothers, many of whom also gave up their children under duress.About the lives of women who faced perilous journeys as they immigrated here or fled dire circumstances in their countries of origin. About the pioneering women, both free settlers and convicts, many of whom had to endure multiple births from a young age. Many women suffered harsh conditions living on the goldfields and on isolated back-country farms and stations.
It includes books about those women who lived lives outside of the norms of the time, such as those criminalised by poverty, or those demonised by differing historical ideas about mental health and institutionalisation. 
The list also provides references about the organisations set up by women to support other women, about the collectives of women who fought for equality and changes in legal status - the right to vote, to own property, to work, to education, and for reproductive rights. Otheritems are about individuals, of women's personal stories of war, as pioneers in their professions, as scholars, as mothers. 
We encourage you to explore the list and welcome suggestions for additions.
Dr Kristy Love
***
You can add your suggestions as a comment to this post on the blog or on our Facebook site. There is plenty of interesting reading for autumn to fuel your current research and writing.
* ABOUT THE CONTRIBUTOR
Dr Kristy Love (formerly Davidson) is a researcher with a passion for family history writing. Her particular interest is the historical criminalisation of impoverished women. She recently joined the GSV Volunteers Team and is now assisting with our GSV Blog Family History Matters. Kristy has a PhD in Creative Writing, an Honours degree in Psychology and has worked in university research management for over two decades. She is a member of the Chinese Australian Family Historians of Victoria and assists with their social media outreach. She is also currently undertaking the Certificate of Genealogical Studies through the Society of Australian Genealogists. 
Image credits 
In the Darkroom by Susan Faludi (Willam Collins, 2016) - her investigation of her violent father and his new identity as a 'complete woman'.
Margaret Flockton: A Fragrant Memory by Louise Wilson (Wakefield Press, 2016) - the story of Australia's first professional botanical artist.
A Suburban Girl: Australia 1918-1948, by Moira Lambert (MacMillan, 1990) - a memoir of 'the urban, middle-class life of her times'. 
Dear Sun: the Letters of Joy Hester and Sunday Reed, (ed) Janine Burke (Minerva 1997) - a powerful and intimate friendship between two remarkable women in Melbourne's art world of 1940s.
Firing by Ninette Dutton (Editions Tom Thompson, 2011) - an autobiography 'for her granddaughter...who is part of the story'.
Trude's Story: A journey from Vienna via Shanghai to Melbourne, by Gertude Speiser (Makor Jewish Community Library, 2008) - memoir of escape from Nazi Austria and emigration to start a new life.
White Beech: The Rainforest Years by Germaine Greer (Bloomsbury, 2014) - memoir of 'an old dog, who succeeded in learning a load of new tricks' restoring sixty hectares of Qld rainforest.
Brian's wife, Jenny's mum, by Judy [et al]: presented by Gwen Wesson (Dove, 1975) - writing of 'ordinary housewives'.
Add file here
Expiry Date:
Saturday, 2 October, 2021 - 11:30