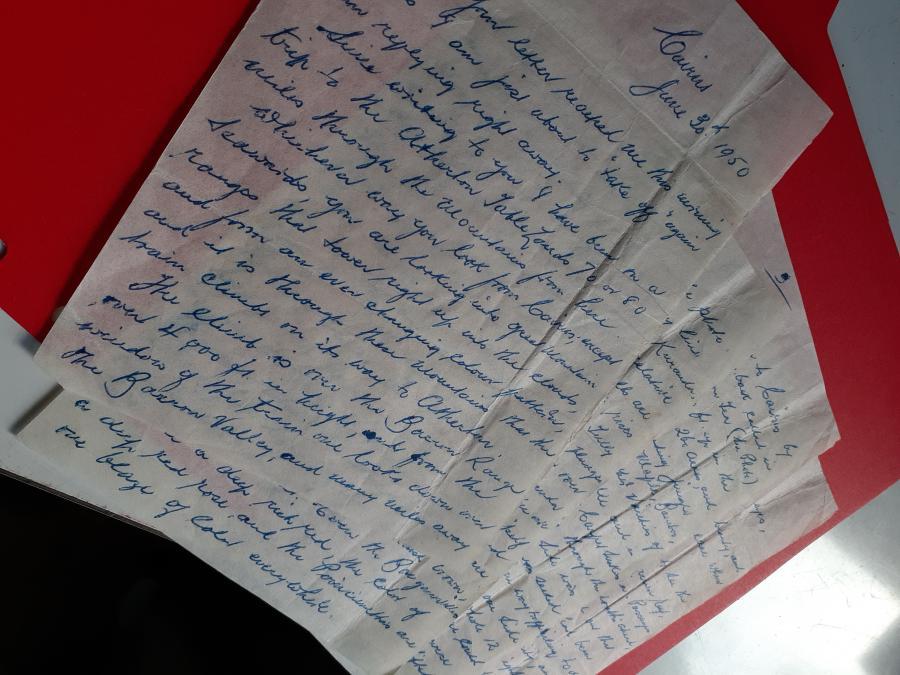 Printer-Friendly View
The GSV Ancestor Edit Team was recently asked about the ownership of letters in a deceased person's estate: 'Does anyone know who these belong to?' 
Simple question but it depends how you would like to use the letters.
The letters themselves will have been distributed as part of the personal effects of a deceased estate, perhaps evenly between children. And owning the letters means you can sell them, exhibit them or donate them, but can you publish them?
I have a much-treasured letter that my grandfather, who died in 1953, wrote when he heard about my birth —beautiful clear handwriting and a testament to those forgotten skills! Can I scan it and publish it? 
The first point to realise is that owning the physical letter and owning the copyrights in the letter are two different things. Personal letters are 'literary works'. So copyright is protected for a period of 70 years from the death of the writer (the creator). If the writer has died, these copyrights, unless otherwise directed, are normally inherited and shared by next of kin.  
So to publish my grandfather's letter before 2023 - seventy years after his death - it looks like I would need permission from each of his children - my father and his two sisters - and as they and their spouses have also died, from their 5 children apart from me.
I own the manuscript itself. But my siblings, cousins and I jointly own the copyright to reproduce it, to communicate it to the public and to publish it for the first time. These rights include putting any 'substantial part' on my website, photocopying it, copying by hand, or scanning it. I can copy it for my own research or for criticism ('fair dealing'), but I don't have a right to publish it without my co-copyright owners' licence. 
Maybe I could wait for a couple of years and the letter will be in the public domain. But we are a friendly family and most people like personal acknowledgment for their part in preserving our history.
***
Read more:
The Australian Copyright Council (www.copyright.org.au) has many useful information sheets available online, such as Family Histories & Copyright, Australian Copyright Council Information Sheet G042v13, Oct 2019.
Judy G. Russell 'Copyright and the lost letters', The Legal Genealogist [website], 3 Dec 2012, accessed 20 June 2021 at https://www.legalgenealogist.com/2012/12/03/copyright-and-the-lost-letters/
Image: A family letter (photo courtesy of W. Barlow, 2021)
Expiry Date:
Friday, 17 December, 2021 - 16:15