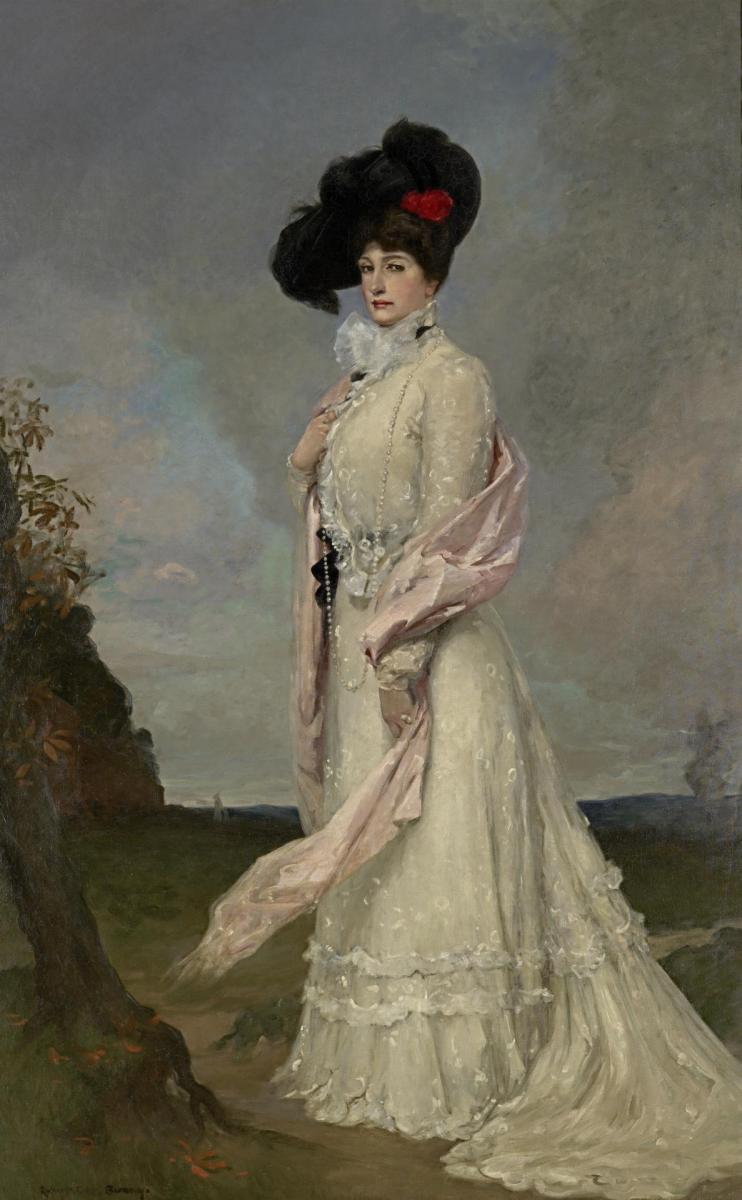 'Madame Melba', Rupert Bunny c.1902 (NGV A70-1980)
Printer-Friendly View
This is a good time to do some family archiving and sorting. I am isolated in my workshop sorting through tools and jars of nails and screws inherited from both my father and father-in-law, along with my own magpie collection. I have also been going through books with family connotations and adding a note to explain their significance. One, a small book inscribed 'To A.H. ... Xmas 1919', is from Nellie Melba to my mother's uncle Adrian Holland who was her piano accompanist in London.
The article below by Clive Luckman FGSV and past President of GSV, previously published in '

Fifty-Plus News'

April (2007), reminds us that capturing those memories from our grandparents and older family members is always important to do.
***
Dame Nellie Melba & Do You Know All Your Grandparents?
A snippet I came across that I thought was interesting is in a book by John Thompson, The Patrician and the Bloke, about Geoffrey Serle (1922–1998), a very respected Melbourne historian. At the time Serle was an editor of the Australian Dictionary of Biography when a submission for entry into the dictionary about Dame Nellie Melba arrived on his desk.
Dame Nellie died of septicaemia after a face-lift done in Europe. The media at the time, with great respect for Dame Nellie, modified 'face-lift' to 'facial surgery'. Serle agonised over whether the true reason for her death should be in the Dictionary. After much thought and consultation he decided that as 55 years had then passed since her death, and he wanted the Dictionary to be accurate, he would include it.
This was, I think, an interesting example of how writers used to modify the truth because they did not want to publicly reveal matters that might degrade the reputation of 'great people'. How often does this attitude colour family histories and, especially, family stories handed down over the generations—whether public figures or ordinary people?
The most dramatic example of this may be that the British press did not print news about the relationship, for the first several years, between Mrs Wallis Simpson and King Edward VIII; however it was widely reported by the US media. I am sure you know of other examples. I am also sure that these days no such suppression by the media would occur.
The age-old advice given to those starting their family history is to first talk to relatives in order to collect the family lore. It is also very good practice to make a list of those things that need investigation as part  of the modus operandiof genealogy.  A basic record of those things includes compiling an ancestry chart of what you can remember about your grandparents. Few can remember all their near relatives going back to their great-grandparents era. Fewer still can remember the occupations of their grandfather, let alone great-grandfather. Any family lore known by your living relatives will probably have been derived from your grandparents—if you are lucky from earlier generations also.
Having researched your recent generations proceed backwards in time, and enjoy the 'thrill of the chase'.
In case you haven't done this, download the Ancestry chart from the GSV website ANCESTRY CHART and fill in the names, occupations and residences of your great-grandparents and their direct descendants. I wonder how many of you can fill it all in. 
***
This article is a slightly-edited version of that first published in Fifty-Plus News April 2007.
Madame Melba, Rupert Bunny, c. 1902, NGV Acc. no. A70-1980
Expiry Date:
Saturday, 19 September, 2020 - 13:45