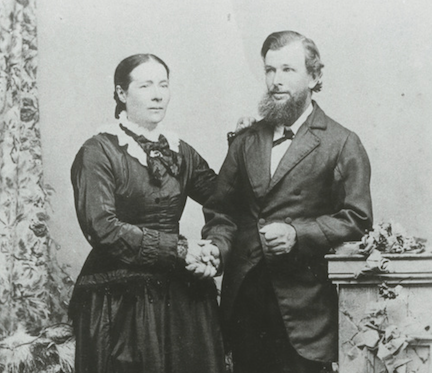 Wedding couple c.1860s
Printer-Friendly View
Churches do not feature so widely in our families today. We tend to forget the powerful part religious institutions and beliefs commonly played in the lives of our ancestors. 
And the recent history in our families is often lost. I recall a few years ago tracking down the resting place of a common grandfather with some English cousins, who exclaimed that this could not possibly be him as it showed he was cremated and his ashes spread in the Anglican section and 'we are Catholic'. We had to break the news that they were only a recent break with a long Protestant line. So I keep an eye out for religious affiliations when researching past family members - after all wars, let alone family disharmonies have turned on this. 
Having written in my book Guilty and Lucky of a marriage in my family in 1870 by the Rev William Bailey, who it was said 'appeared to run a marriage shop' from his house at 41 Burton Street, Darlinghurst, Sydney, I was very interested to come across him again in the following article by one of our GSV Writers, Gayle Nicholas.
The Ex-convict Marriage Celebrant

Marriage certificates are crucial documents in genealogy research.  Every detail on a certificate is scrutinised hoping to find new information or to verify previously discovered details. Names, ages, occupations, locations and celebrants may be confirmed or become doubtful. But I had not expected the study of my great grandparents' marriage certificate would uncover a nineteenth century Minister of Religion of some notoriety.
    According to their marriage certificate, my great grandparents Richard James Price and Mary Boyce of Surry Hills NSW were married in 1868 'According to the rites of the Free Church of England'. Having never seen the adjective 'Free' on a Church of England certificate my curiosity was aroused. 'Free', Googlequickly revealed, did not refer to ideology but to cost. This Church did not charge fees for marriage services. My focus quickly moved from the Church itself to its intriguing celebrant, the Rev William Bailey. His story reveals a determined and clever man, wronged by authority, or a rogue, or a combination of both.
    Bailey, a well-educated Irish ex-convict, was described by Alan Grocott in Convicts, Clergymen and Churchesas a 'bizarre clergyman'. Born in Ireland in 1806, he became a Church of England minister. In 1838, six years after marrying, he moved with his wife to Westminster in London where he held a position as Rector. In 1841 he was found guilty of forging a promissory note. He was transported from England to Van Diemen's Land in 1843. Four years after his arrival in the colony he was granted a ticket of leave.
    His wife had followed him from England and they ran schools in Hobart. After he received a Conditional Pardon, Bailey settled in Sydney. There, Bailey and his wife earned income through teaching and writing. In 1864 he established the Free Church of England, in Surry Hills, in inner Sydney. In 1868, Bailey performed 350 marriages. He married many tradespeople like Richard and Mary as well as some 'less respectable citizens'. He criticised pew rents and charging fees for marriage. His supporters claimed more de facto couples married because of his services. However, he received a poor press in the Sydney Morning Heraldand had several fractious encounters with authorities and courts. These encounters increased after he styled himself as a Bishop in late 1868. In 1871 he was charged with celebrating the marriage of a minor and imprisoned for six months. He was never able to successfully re-establish his church. He died in 1879.
    I ponder my great grandparents' relationship with this church and with Bailey. Why marry in the Free Church of England?  My first thought, a humorous one, stemmed from memories of family members teasing my grandfather Alfred, Richard and Mary's youngest son, about the Welsh in him making him tight with money.  More important, Richard, Mary and her extended family were all part of the developing Surry Hills community where Bailey had established his Church. Mary's parents were Irish Assisted Immigrants, and may well have connected with Bailey through the Irish community.
    After the Price family moved to Melbourne between 1877 and 1881 they attended St Saviours in Collingwood and the Welsh Church in Melbourne. St Saviours, when established in 1875, was also described as a 'free' Church. 
    In genealogy research choices need to be made.  So do I pursue research on Rev William Bailey and the Free Church movement, or do I return to my family tree – and see where the next marriage, birth or death certificate leads me?
Gayle Nicholas
***
We might be left wondering about the legitimacy of such marriages and the attraction of our forebears to the more obscure churches and sects.[Ed.]
***
References
Guilty and Lucky, William Barlow, 2020 - in which I of course declare an interest.
'Bailey, William (1806-1879)' by TB McCall, Australian Dictionary of Biography, Vol.1. (MUP), 1966 and ANU online.
Convicts, clergymen and churches: attitudes of convicts and ex-convicts towards the churches and clergy in New South Wales from 1788-1851, by Allan Grocott, Sydney: Sydney University Press, 1980.
'William Bailey and the Free Church of England in NSW' by E D Daw, in JRAHS Vol. 58, pt. 4, December 1972.
Image: Wedding couple: Juliane and Christian Schilling c.1860. Fruhling Studios, Moculta Collection, State Library of South Australia Item B41306 (cropped) accessed at https://collections.slsa.sa.gov.au/resource/B+41306.
This month's author belongs to the GSV Writers Discussion Circle and this article was originally published for the GSV in Fifty-Plus News, 2014.
Expiry Date:
Saturday, 17 April, 2021 - 17:00