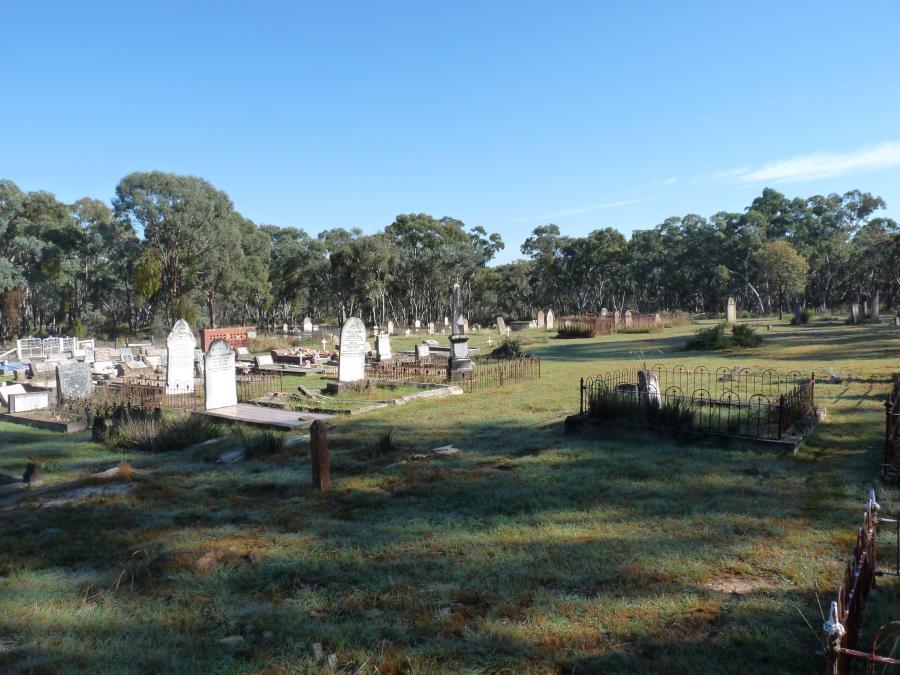 Tambaroora Cemetery, near Hill End, NSW
Printer-Friendly View
by Martin Playne
Victorian readers will be well aware of Bendigo and Ballarat as rich goldfields, but for most Hill End will ring no bells. But, between 1851 and 1872, Hill End and neighbouring Tambaroora, which is now a ghost town, were among the richest goldfields in NSW.
I came across Hill End almost by accident. While chasing up a distant cousin and her convict husband, I found that on his release from Hobart Gaol in 1856, the two of them and their teenage daughter, Marguerite, travelled to Mudgee to start a new life. Then, I discovered that daughter Marguerite died in Hill End, which is about 70 km south of Mudgee in the ranges of central NSW. Why did she end her days there?
It is a pleasant drive on a winding hilly bitumen road from Mudgee to Hill End these days. Some 5 km short of Hill End, one finds the Tambaroora Cemetery. Searching for her grave, we found that it was the most imposing in the cemetery. So there must have been more to this woman than I knew - why such a big tombstone? This led me to continue the search for more information on Marguerite and husband, Edward. This is what makes family history search so interesting, and it takes you to beautiful places.
I wonder how many readers may have a relative who lived in Hill End. After all, there were some 2500 residents at one time. Hill End has been preserved as an historic town by the state government. Indeed the Hill End Historical Museum is run by the NSW National Parks & Wildlife Service in the old hospital building. There they maintain information on early inhabitants, supported by keen volunteers and family historians. The museum is well worth a visit. It has lots of photos of old buildings and their inhabitants, and the equipment they used.
Soon I came across another mine of information - the Hill End and Tambaroora Gathering Group, headed by Lorraine Purcell in Sydney. This group of descendants of Hill Enders aims to preserve and record as much information as they can on the early days. They meet at least annually in Sydney, and also arrange frequent visits to Hill End. An email newsletter is produced regularly, and a number of books and booklets are published. Details can be obtained on their comprehensive website: www.heatgg.org.au   . The website has recently (2019) been greatly improved by the addition of searchable records.
The Mitchell Library holds a wonderful photographic record of early Hill End known as the Holtermann Collection. Some of these photos were published in 1973 in a book by Keast Burke.
So if you think an ancestor went searching for gold in the NSW goldfields, it is likely that they spent some time at Hill End. It's not too hard to chase them down if you follow up some of these leads. The gathering group is a great place to start - and you can do that from your armchair with an iPad.
By the way, I did find out about Marguerite and Edward. She lost her mind when her little boy died, and became a piano-playing recluse living in her dressing gown with all the windows curtained all day. After her death in 1902, Edward went to Marrackville in Sydney, remarried, and died in 1914. He had however ensured Marguerite's sad story would not be forgotten, with her monument in the cemetery at Hill End.
***
Martin Playne is a long-time member of the GSV Writers Discussion Circle and a member of the Editorial Team of the GSV magazine Ancestor. He has published many articles in Ancestoras well as his 2013 book,'Two Squatters: The lives of George Playne and Daniel Jennings' - a digital copy of which you can find in the GSV Collection. (A Kindle edition is available via Amazon). He is currently writing a new book on the lives and families of the Great Will Forgers of the1840s. This book covers the fen country of England, London, and the west of England, and then moves to Norfolk Island, Tasmania and mainland Australia. 
If you need help and support with your family history writing, come to the GSV Writers Discussion Circle which meets on the first Wednesday of each month (GSV members only). If you are a GSV Member just come along this week - it's all part of your membership.
*** 
Expiry Date:
Saturday, 30 November, 2019 - 14:00