Printer-Friendly View
As the GSV is building stronger links with RHSV, now is a good time for you to track down the GSV Library Collection at RHSV. 
When the GSV moved in April last year to its smaller centre, its library collection was split between two locations - the GSV Research and Education Centre at 85 Queen St and the Royal Historical Society of Victoria (RHSV). An agreement between the two societies provides access to the combined collection for GSV members. The majority of the GSV's book collection is now integrated with the library at the RHSV in their premises at the corner of William and A'Beckett Streets. [Correction: In the original publication of our previous post the location of the RHSV should have been given as on the corner of A'Beckett and William Sts.]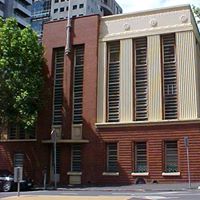 RHSV from A'Beckett St.
How to access the collections at the RHSV
GSV continues to list in its catalogue all the books that were in the GSV Library prior to the move. Those that are now at the RHSV have a prefix RHSV in the catalogue and those at the GSV will have GSV as a prefix.
Note that some items may be unavailable if they are being scanned and indexed. This should be mentioned in the catalogue, but unfortunately not all have been noted.
Here are the easy steps to find the books or periodicals you are looking for:
Check the GSV catalogue.
If the Call /Shelf number has a GSV prefix just come into 85 Queen Street and find the item on the shelf as before.
To access items at the RHSV, please provide as much notice as possible (preferably at least one day's notice) to collections@historyvictoria.org.au , noting the title and call/ shelf number and the RHSV will confirm by return email that the item is ready for you. Please include your GSV membership no. with your email request.

Item requests can only be taken by email.
Present your GSV Membership card on arrival (otherwise the RHSV Day Visit fee would apply).
RHSV Existing Collections
You can search at:http://www.historyvictoria.org.au/collections for information on their holdings.
How to get to the RHSV:
Royal Historical Society of Victoria is at 239 A'Beckett Street, Melbourne. The entrance to the RHSV is in A'Beckett St.
Opening Hours: Library 10am – 4pm Mon-Fri. Phone number 9326 9288
Take Tram 55 up William Street, and get off at the LaTrobe Street stop. There are also frequent buses up Queen St from GSV to A'Beckett St, but it is only a 10-15 minute walk from the GSV.
OR
Take a train to Flagstaff Station, and walk one short block up William St to A'Beckett St. 
***
Expiry Date:
Tuesday, 2 October, 2018 - 17:45