Printer-Friendly View
We posted notice on this blog on 30 June about the coming change from microfilm to digital records at FamilySearch. This has now happened. In this post John Blackwood from the GSV explains what this means and how to access the digital data.
***
FamilySearch, sponsored by The Church of Jesus Christ of Latter-day Saints (LDS), is a source of genealogical information, being familiar to most of us long before the rise of the many commercial web sites.
With its commitment to make billions of the world's historic records readily accessible digitally online, FamilySearch has discontinued its microfilm circulation service and replaced it with digital online access.
Some relevant points are as follows:
All of the long-term microfilms rented in the past 5 years have now been digitized
All of the long-term rented microfilms at the GSV will remain at the GSV, at least for the immediate future
The remaining microfilms at FamilySearch are being digitized at a rate of 1,000 films per day, and are projected to be complete by 2020
If researchers need access to a particular film yet to be digitized, they can express an interest to have it added to the priority digitization list by contacting FamilySearchSupport at https://integration.familysearch.org/ask/help
Affiliate libraries (including the GSV) now have access to nearly all of the restricted image collections
The digital image collections can be accessed in 3 places on www.familysearch.org all under "Search"
Catalog. Includes a description of all of the microfilms and digital images in the FamilySearch collection. This is where all of FamilySearch's digitized microfilm and new digital images from its global camera operations are being published. A camera icon appears in the Catalog adjacent to a microfilm listing when it is available digitally
Records. Includes collections that have been indexed by name or published with additional waypoints to help browse the unindexed images
Books. Includes digital copies of books from the Family History Library and other libraries, including many books that were previously copied to microfilm
Before searching the digital image collection from home, it is strongly advised that you register with FamilySearch to establish a username and password. Simply click on "Free Account" at the top of the page at www.familysearch.org and follow the prompts.
This enables you to view some additional records and access "My Source Box" to sort and mark records for later use.
The following is an example from the parish of Findon, Sussex.
From the FamilySearch main page, first of all, sign in with your username and password.
Click on "Search", then on "Catalog". In the "Place" box, enter "Findon Sussex' and click on "Search'. From the search results, click on "Church Records (6)". Click on the title "Parish registers for Findon, 1557-1901".
The magnifying class icon allows you to search the indexes. However, the camera icon may bring up three options for you to look at the images, viz
Sign in as an individual with your user name and password (if you have not already done so). If you are already signed in, the images come up immediately
Access the site at a family history centre
Access the site at a FamilySearch affiliate library (such as the GSV)
If an image appears, just as with a microfilm, you will need to scroll through the images to get to where you think you might want to be.
However, sadly for Scottish researchers, it would appear that digitized Scottish films can only be viewed at either a family history centre or an affiliate library.
*With acknowledgment to the FamilySearch News email dated 31 August 2017.
John Blackwood
***
Example from FamilySearch catalog: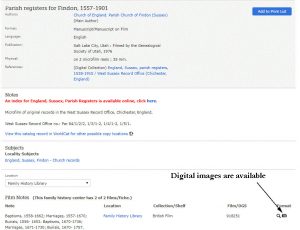 Expiry Date:
Saturday, 23 December, 2017 - 14:00