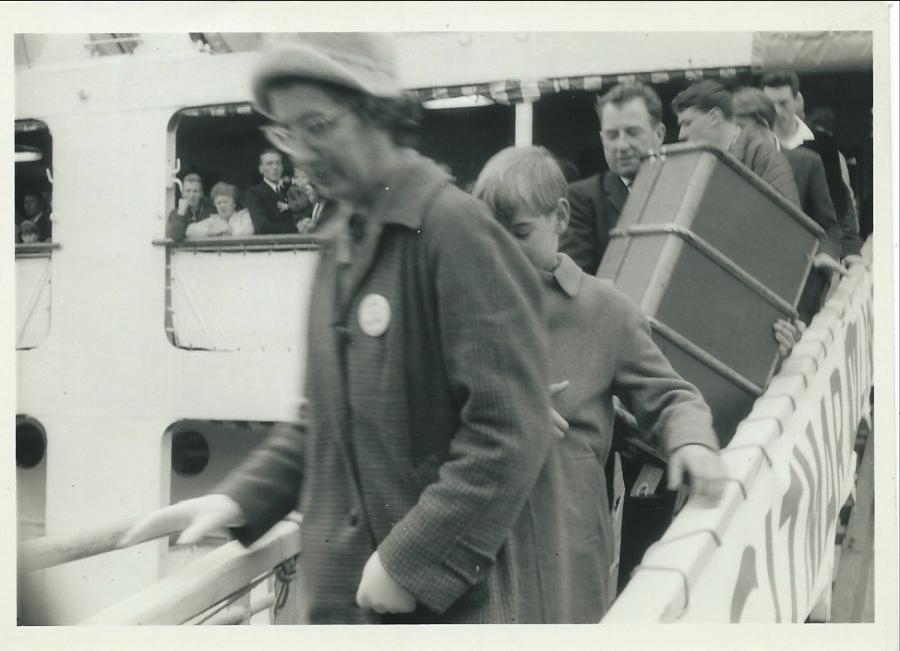 Meeting British immigrants, Station Pier, Port Melbourne 1960s (Photo: permission of W.Barlow)
Printer-Friendly View
I have seen lots of family history advice about how to preserve my family photos, but what I need to do, is to get rid of them! 
Some GSV members had an interesting exchange recently. Viv Martin posed the problem we all face:
'I am about to start scanning my school report books, academic certificates and swimming certificates, etc. When finished, will I just dispose of them as waste paper? I doubt that they would have any significance, except as examples, to the local Historical Society? What do others do with such material?'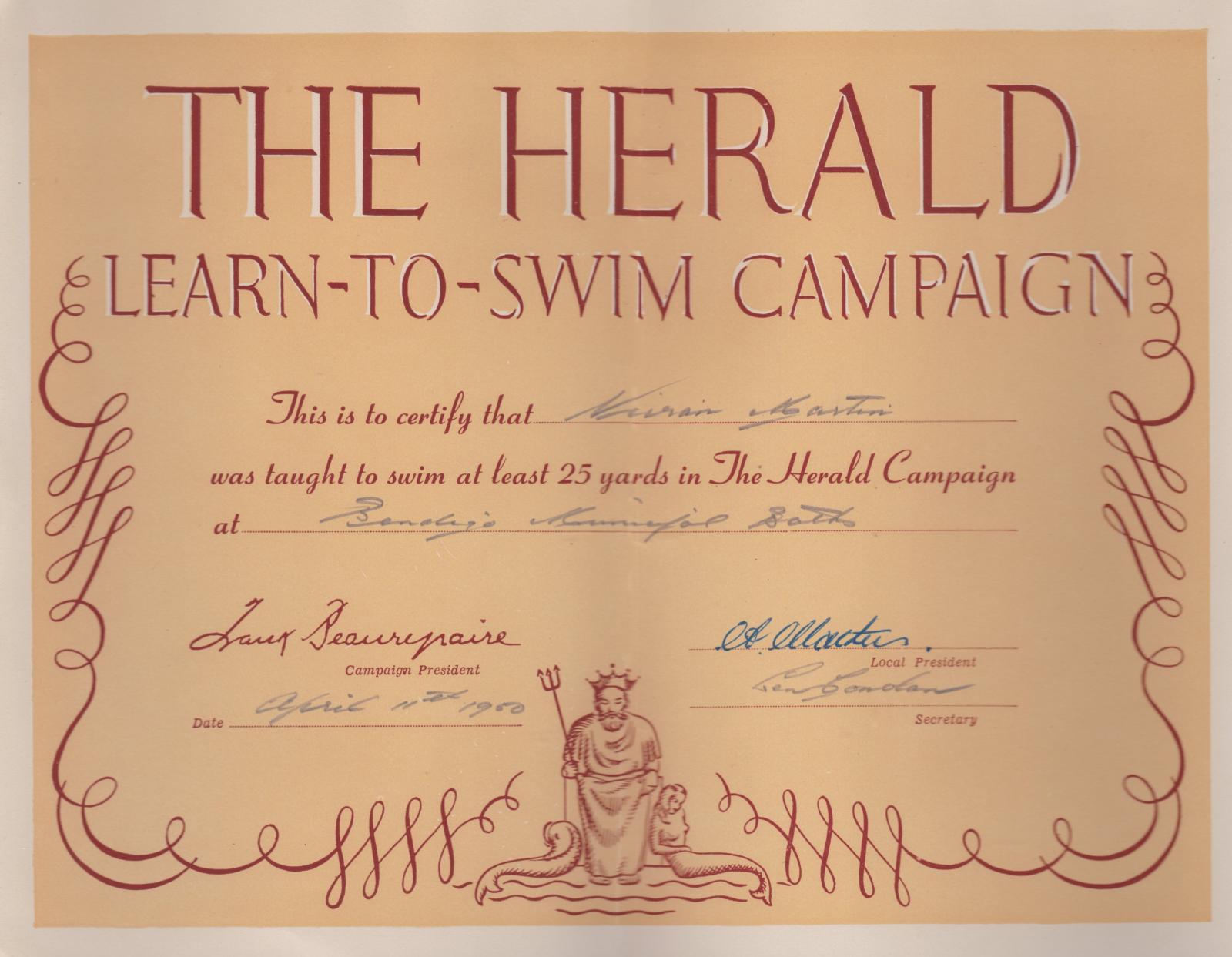 Others responded, reflecting many aspects of this dilemma:
'I'd have trouble disposing of them.' VM. 'Shredder, waste paper bin, bonfire? 
'Probably the school could use them. I know someone who gave theirs to the school and they use them for displays.'
'I've got stuff like that. Also Mum's stuff. It includes a receipt for her wedding dress and furniture. Dad's payslips and his driver's licence and receipt for the Chev Roadster. Just don't know what should be done with them.'
Keeping them in a safe place
'My '25 yard' swimming certificate was one of my greatest achievements. If I could find it I wouldn't throw it away.'
'I'm sure mine is in that safe place where I've hidden everything else, if only I could remember where that safe place is!
'I've hidden all Mum's vital docs. Eventually had to pay to get new copies of birth/marriage and life insurance policies. Such a waste 'cos I know they are here somewhere.'
What is the value of keeping the original?
VM. 'When I am gone, the family won't know what to do with it [the swimming certificate]. Once I have a good scanned image, it is just more paper work of no great consequence?'
'Hmmm...I would keep the originals. My grandmother kept some of my Grandfather's and my father's early school and employment papers. The real thing has more meaning than a copy from a computer. Don't sell yourself short. Someone will be interested in who you were one day.'
VM. 'Who has your Grandfather's and father's papers? Who will inherit your originals? If my scans were to be printed out in colour and identical size paper, it would be hard to tell the difference!'
'It isn't just the visual image of documents that can matter. It's the fact that my grandfather may have held this paper. That my father's hand produced that signature. That this photo negative was in a camera held by my mother. That this certificate was handed to me in the presence of three generations of my family.
Things have souls, and they are part of our soul. Otherwise, why not have a PDF of the Declaration of Independence on display in Washington. Why not have a jpeg of Magna Carta in Salisbury Cathedral?' 
VM. 'I understand [that] there is some satisfaction in viewing the originals of significant documents such as the 'Declaration of Independence' and the 'Magna Carta'. The personal documents have an attraction that will not be the same to subsequent generations. My children would remember three of their four grandparents but my grandchildren can only look at photos, read stories or view some documents of these people. What significance to them of the actual personal letters? 
Throwing things away
'The hardest thing to do is throw the 'stuff' away after scanning. I have been scanning photos and documents for the past six months. All I can think is that the family won't have to throw it out once I am gone. The first box full was the hardest!'
'I'm afraid I never throw anything like that out, I've got mine, not worth much and also mum's. Eventually have to extend the house, only joking!'
Re-formatting and technology changes
'I have the originals and the 'tree' all to be passed on to a younger cousin. I also have them on disc and my computer. Technology is moving so fast can we be sure that we will be always able to access our saved items?...So nice to handle the originals.' 
VM. 'From past experience, I can tell you there is always someone out there who will be able to read and transfer old technology to whatever will become the 'modern' medium'. 
'It all seems like hard work. When the originals could be available. And when the originals are not valued and 'tossed', what then? The record is lost forever.'
Adding the stories
VM. 'When I review what I have already done and accumulated, it is fairly extensive... Now I find I need to collate and write up the stories because much of it is now only known by me... I have the stories and even recordings of my parents. So much "stuff", so little time.'
'It is a problem. I scan things and then try and think of a suitable archive. I check Museum Vic, SLV and local or relevant museums online to see if they have examples. I aim to try and extract the history or significance from documents from the viewpoint of future generations, then throw the originals out, as they won't want them. I scanned my first bankbooks recently and added some notes to tell the story of the entries, then threw them out. But it's lots of work. I should work on the most 'significant' docs first.' 
VM. [That's] what I need to do. What I have will be woven into my life story... I can recall many stories attached to the swimming certificate and to school, of course! [The documents] inspire even more memories!
***
Preserving digital copies
So making digital copies is the first step. But having made a digital copy and decided where to keep that, we have just made more stuff - and we still have the originals! In fact after I donated originals to the Museum they gave me back copies of their professional scans!
To preserve the record a digitised copy can be put on websites, your own or others, or given to an appropriate collecting institution, such as the GSV. The GSV can give guidance for people wishing to donate material in digital format.
But what do you do with the original?
Before you give up and keep everything, try and find a custodian who will value it. This could be a library, an archive or a museum. The GSV does accept donated personal papers, images of identified people, manuscript material and primary source material (e.g. certificates) relating to genealogical research, but does not undertake to retain material once it is digitised.  
It is unlikely that allyour items will match one institution's collecting policy. A local history museum may take school photos, or early photos of places. My family's 'Ten-Pound Pom' documents told a story of British immigration and found a place at Victoria's Immigration Museum. Stonnington Heritage Centre took my father's photos of Gardiners Creek in flood (in 1934) and his early school photos. Recently the life-story of Shelagh Philpott, a British child migrant sent to Australia in 1950, has been acknowledged with the recent acquisition of her photos, letters and papers by Museum Victoria. Shelagh received a payment in recognition of the distress suffered and an apology from the UK Government in 2010. These documents are now held in the Museum and have been digitised at Collections Online https://collections.museumsvictoria.com.au/articles/17052
When looking for a suitable place for your documents:
scan them and make a note about their stories and provenance,

assess their significance and wider value to others,

identify possible collecting institutions and read their acquisition policies,

check if they may digitise the items and put them online, and

if their catalogue is shared with NLA Trove Pictures Collection.
In case you despair of having enough time or energy for all this, pick out the rarest or most significant, or most interesting, items first.
If you do decide to keep the photograph, label it well and record that a digital copy has been made and where it is held. This will help others who have to decide in future what to do with it. Keep all the items together in a way that is easy to pass on. They will thank you.
Job done. 
Expiry Date:
Sunday, 29 August, 2021 - 21:00