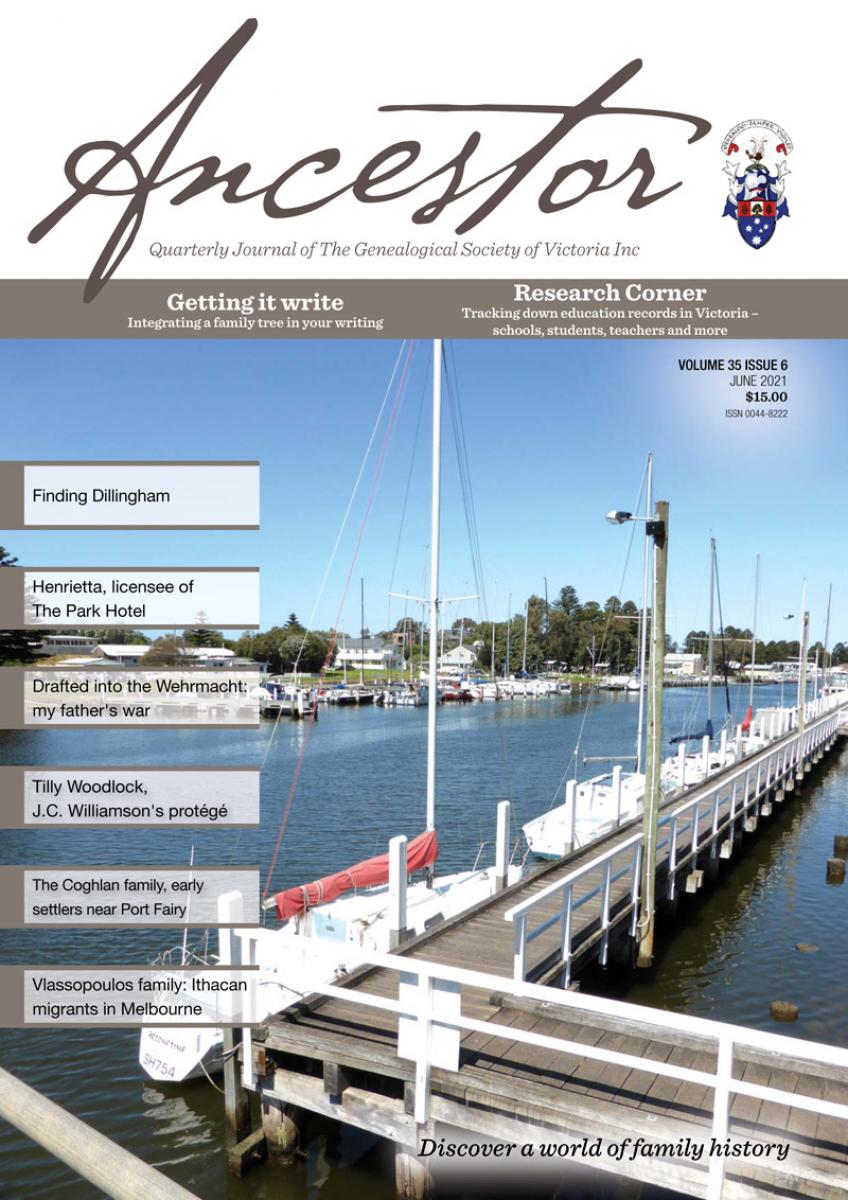 Printer-Friendly View
The June 2021 edition of the GSV's award-winning quarterly journal Ancestor is now out.
Digital editions in flipbook and a PDF are now on our website for Members.
Members will receive it in hard copy by mail soon, unless they have opted for digital-only, thus saving paper and running costs for the GSV.
The Ancestor Editors describe what this issue brings. Happy reading!
and what else would you be doing this week in Victoria) Stay safe.
[Ed.]
'Winter means more time indoors, so more time for writing up your family history, an excellent opportunity to complete your article for the GSV Writing Prize. Entries are due by the end of August – see the back inside cover for details. It's also a great time for curling up in a chair and reading, so you will enjoy the great variety of articles in this issue.
Alex de Fircks has delved into German military records to describe her father's time as a reluctant recruit in the German army in the Second World War.
Judy Woodlock follows the life and career of J.C. Williamson's protégé, dancer Tilly Woodlock, in Australia, New Zealand, England and back to Australia.
Andreas Vlassopoulos and his brothers came from Ithaca, Greece, early in the twentieth century. His daughter, Rosa McCall, weaves memories of her father around stories of life on the island of Ithaca, those left behind, and the family's fruit stall at the Queen Victoria Market.
Two authors have used family documents as the starting point for research into their forebears. Natalie Lonsdale draws on letters sent to family back home, and her own extensive research, to trace the journey of a young convict from his native Bedfordshire to Tasmania, and later to the Victorian goldfields. Jim Coghlan has used a document written by his great grandfather outlining the main events of his life, backed up with his own research, to tell of the Coghlan family who travelled from Ireland in 1838 expecting to settle in Sydney, but found themselves instead in Port Fairy.
Our series on female publicans continues with Gayle Nicholas's article about Henrietta, who was briefly the licensee of The Park Hotel near Ballarat. Her time as such was short lived as marital discord saw her leave both the hotel and Ballarat.
We regret that we have not been able to include our usual 'How to' guide to researching a particular area in this issue, but this feature will definitely be back in the next issue.
Kristy Love has written a clear and concise article on tracing her grandfather's half-brothers using a combination of DNA techniques and traditional methods of tracing her ancestors. This contribution will be very useful to anyone starting to use DNA analysis to assist their family history research.
Meg Bate's Research Corner is an informative guide to education records in Victoria.'
***
Don't forget to get your entry in for the Writing Prize!
Expiry Date:
Monday, 29 November, 2021 - 18:30