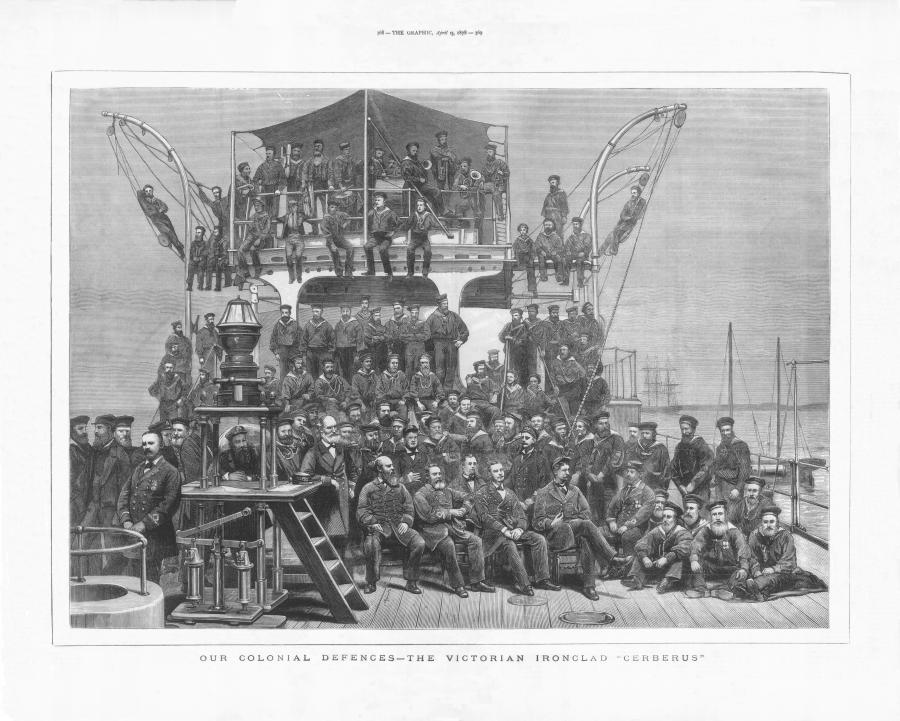 Cerberus crew 1878
Printer-Friendly View
As one outcome of my recent family history research I have now enlisted in the Navy - the Victorian Navy.
I am an Engine Room Artificer!
I have discovered that a great grandfather was in the Royal Navy and then finished his sailing career on HMVS Cerberus based at Williamstown at the start of the 1900s. For years I have looked out at that ungainly-looking breakwater just off shore at Black Rock in Port Phillip Bay, without knowing its connection.
Now with the assistance of all the material available on the website created by the Friends of the Cerberus Inc I know a lot more about this ship. 
The website has the uploaded Certificates of Service of the 346 members of the Permanent Victorian Navy Force 1884-1905 as well as Enrolment Sheets (courtesy of the National Archives Australia) and they are searchable. The site has every possible document about Cerberus, photos, articles, newspaper reports and lots. It is a great testament to the labours of its volunteers and received a 2011 Victorian Community History Awards Commendation.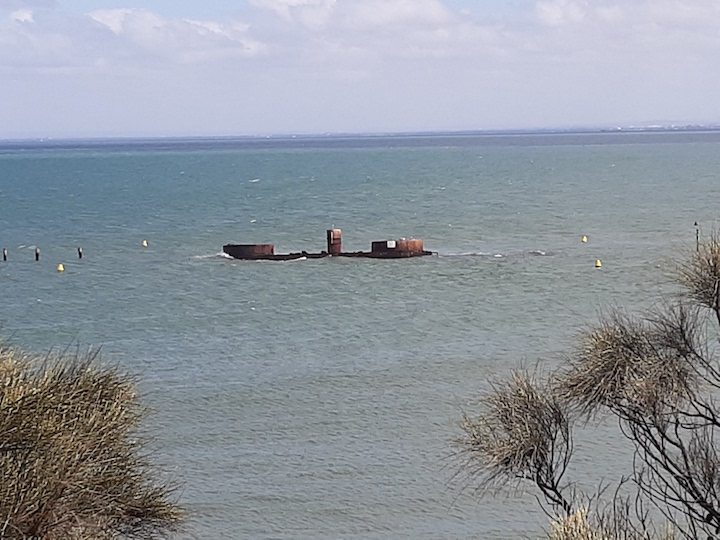 This unassuming piece of our heritage sitting offshore is unique. Cerberus was commissioned by the Colony of Victoria to form its navy prior to Federation along with the sailing ship Nelson, which does not survive. Cerberuswas scuttled in its present location in 1926. After some parts of it a collapsed in 1993 it is now to be filled with concrete to 'preserve it'. In heritage work the Burra Charter requires that priority be given to options that do not destroy original material and which allow future recovery. 
It is hard to understand this treatment of such a rare piece of our Colonial heritage - especially by a Council which otherwise sets a high bar for preserving its built heritage.
Concrete-filling is still intended by Bayside Council though an alternative is available which would not destroy its value for future research. After many technical reports it appears that this decision may have been partly based on some errors and misunderstandings that remain to be checked. It is hoped that the Cerberus is not finally sunk by filling it with concrete - more than doubling its weight. 
Cerberus was the genesis of all battleship designs pre 1905. It was the first British warship to dispense completely with sail power. Launched in 1868 Cerberus is the only remaining warship of its class left in the world. Not only its hull but also its gun turrets and its guns have survived.
Cerberus is the only substantially intact surviving warship of any of Australia's pre-Federation colonial navies as well as the only surviving inaugural warship of the Royal Australian Navy.
This relic does not look as interesting and dynamic as Nelson's ship Victory at Portsmouth, but our HMVS Cerberus deserves better treatment. Even its interpretive signboard facing the other way is deteriorating and the safety markers dotted around it look temporary and betray its significance. 
Hopefully we can afford to preserve parts our physical heritage like Cerberus as reminders of our past rather than reduce everything to digitally-preserved entries on the internet. It is still much more engaging to take our grandchildren there to visit than to just show them a digital image on their phones.
If you are interested to know more about Cerberus and maybe even find your family members in the Victorian Navy visit the website http://www.cerberus.com.au
You can even join up - as I did!
Bill Barlow ERA (Victorian Navy)
***
Images: Cerberus crew 1878, engraving from The Graphic, April 13, 1878, p.372. Courtesy of Friends of Cerberus Inc. Photo: Cerberus at Black Rock, Vic, 2020 (W. Barlow)
The views expressed in this article are those of the author and do not necessarily represent the views of the GSV.
Expiry Date:
Thursday, 20 May, 2021 - 08:45