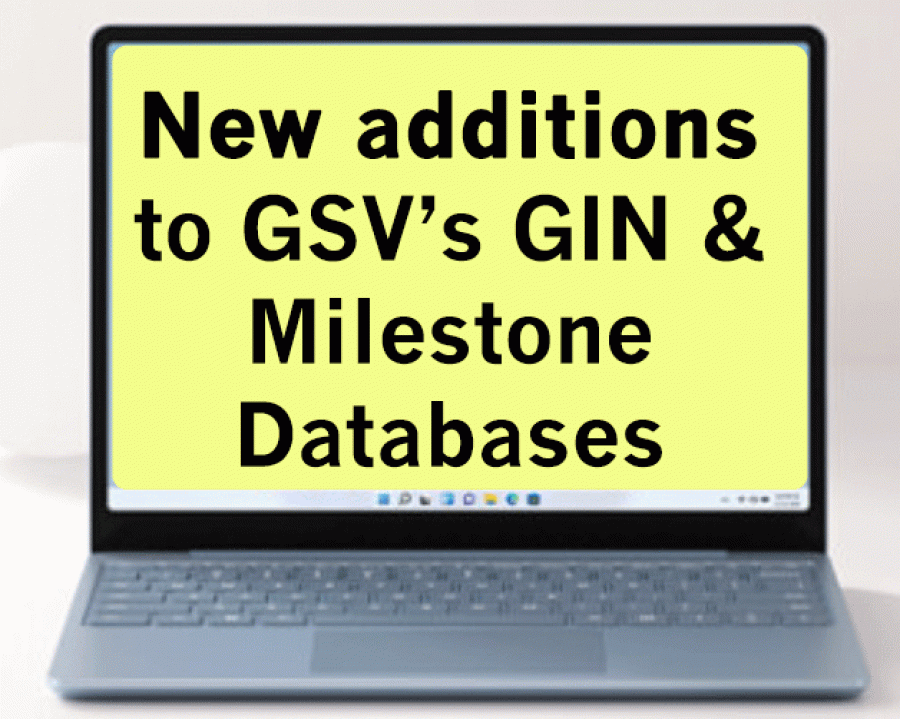 Printer-Friendly View
In the last few months the GSV has uploaded 13,028 records to our Genealogical Index of Names (GIN) database and 10,035 Records to our Milestone database.
Many thanks to all our hardworking DIGI team who assist us. The highlights of the additions are below.
Genealogical Index of Names (GIN) Database
VICTORIA
General alphabetical list of electors of the Electoral District of Port Phillip for the year commencing 1st June 1850, and ending 31st May 1851
[Index to] The Victorian municipal directory and gazetteer for 1885 compiled by David Holloway
Baringhup schools: Baringhup State School No. 1687 (Old), Baringhup West State School No. 941
Register of municipal ratepayers: Nepean ward and surrounding areas of the Mornington Peninsula shire 1864-1900 compiled by Frank South
FAMILY HISTORY
Index of names from "My wonderful family and me: an overview of Alan's ancestry" by Alan Haintz. Families include Haintz, Boadle, Kelly, Bousted, Lyons, Pickering
Milestones
GEROGERY (NEW SOUTH WALES)
Gerogery Lutheran cemetery headstones 1869-1979 by C A J Summerton
NARACOORTE (SOUTH AUSTRALIA)
'The Spirits' of Pioneer Park: Narracoorte-Kincraig Cemetery 1850-1878 by Murray Sherwell
CLUNES (VICTORIA)
Clunes burial register 1861-1989 compiled by Genealogical Society of Victoria Ballarat Group
YAN YEAN (VICTORIA)
Yan Yean cemetery (Whittlesea) headstones 14/5/1853-2/5/1951 compiled by Niel T Hansen
GEELONG (VICTORIA)
St Giles Presbyterian church Geelong: baptisms 1889-1916
MELTON (VICTORIA)
Christ Church Melton marriage register 1906-1954 compiled by Judith Bilszta
RICHMOND (VICTORIA)
St Stephen's Church of England, Richmond, Victoria baptisms 1901-1914 compiled by Miriam Macartney.
Expiry Date:
Sunday, 22 January, 2023 - 22:15