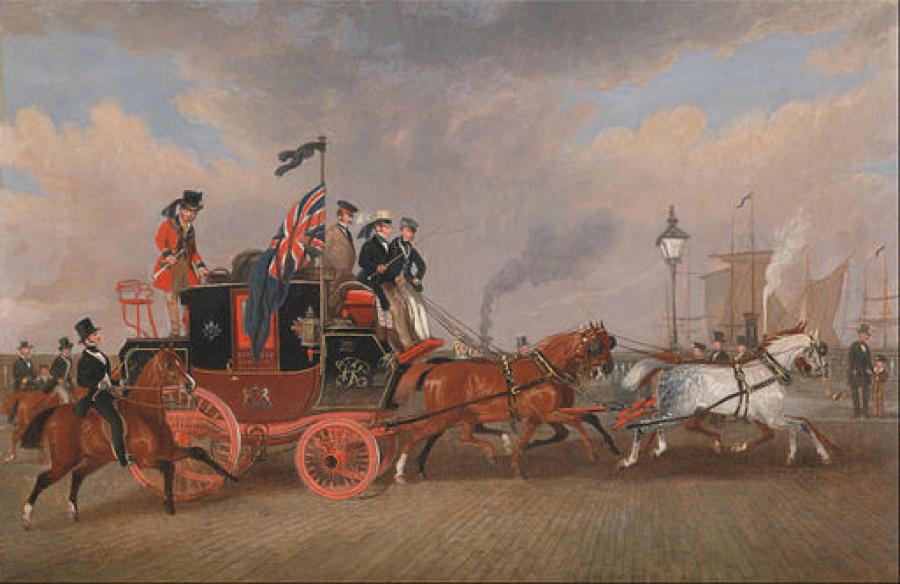 The Last of the Mail Coaches at Newcastle upon Tyne (1848) by James Pollard (1792-1867)
Printer-Friendly View
You have just under two weeks - a week from Friday to enter the GSV Writing Prize 2020.
Last year's winner Louise Wilson painted a vivid picture of the development of the Royal Mail coaches in England unravelling the story of her coachmaster Boulton and Willson families in her article 'Masters of the Road' (Ancestor 34:8 December 2019).
In 2018 Helen Pearce won this prize for 'Daniel Elphingstone: his son's secret exposed' (Ancestor43:4 Dec 2018). Both these winning entries can be read by GSV Members on the website. Go to 'Ancestor Journal / View Ancestor as a PDF' where past issues from 2012 on are available.
But this year it's your turn. I suggest you lock yourself in (oh! done that) and polish up that family history story you have been promising to finish.
Members of the GSV as well as members of GSV Member Societies are eligible to enter. You can read the Judges' Report on 2019 winners on the website and 'Tips for Writing an Article' in the last issue of Ancestor 35:2 June 2020 is a very useful guide on how to 'make it easy for the judge's to say yes' 
Full details of the competition are on the website www.gsv.org.au/gsv-writing-prize
Entries close at
4 pm on 28 August 2020.
Now lock yourself away!
***
Expiry Date:
Saturday, 13 February, 2021 - 12:30