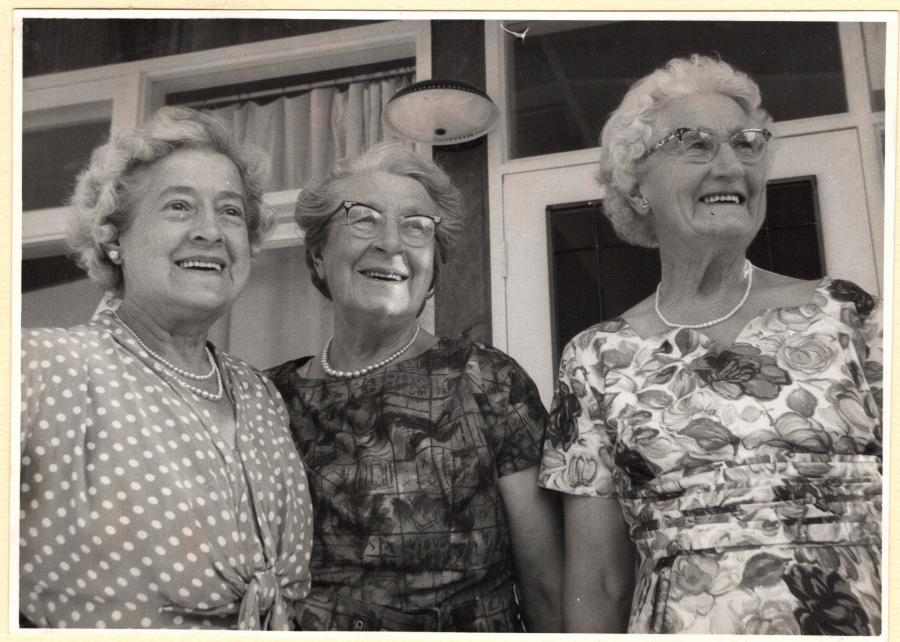 Three sisters whose stories have not been told.
Printer-Friendly View
By Claire Dunlop
At this month's GSV WRITERS discussion 'grid' on Wed 3 March we shared our thoughts around 'Telling Women's Stories'. About 25 of us fitted in the Zoom grid and our discussion covered many of the challenges in researching and writing women's stories.
The following observations give a useful overview for us as historians as we choose to challenge ourselves in 2021 to tell women's stories. 
Common challenges to finding women's history
Changing name to married name particularly if married a couple of times. 
Women who were not married but changed their name to that of a man with whom they were then living. Often in records and newspapers a woman will have been referred to as, for example, 'Mrs L Adams' when her name was 'Jane'.
No public profile - most history books and historical society websites barely mention women.
Invisible undocumented employment. Women earned money in activities but that information rarely appears on the census or electoral roles, such as some farm activities, agricultural labourers in England or egg money from chickens, also taking in laundry and dressmaking, housekeeping and domestic service.
Some married women continued carrying on the piecework that they had done before marriage. 
Some businesses were really run by women, but their husbands got the credit. Look for clues for this.
Documents and sources that can prove helpful
Birth, baptism, marriage, death, burial certificates and information– not just hers, but those around her because she may well have helped deliver a baby, witnessed a wedding or reported a death. As well as establishing facts, this information shows the people in the woman's life at that time. Look at all the names and interrogate what they were there for and what they were doing. Use your imagination.
Reports relating to community groups and organisations- such as churches, Country Women's Association (CWA), etc. 
Relevant to women in Victoria in 1891- Did she sign the petition to get the vote? https://prov.vic.gov.au/explore-collection/explore-topic/women-archive
Relevant to women in Australia- Trove. It can be easy to track teachers in country towns as the newspapers that covered those towns would have a small article on the new teacher. 
Relevant to women in the UK -'British Newspapers on line'.
Inquestsinto own death, children's deaths, husband's death or death of other near relatives.
Government gazettes- After 1883 women passed an exam to enter the public service in Victoria as clerks, telegraphists and later on as telephonists and their name was published.  Also in the late 1880s women who worked as nurses and warders in asylums had their appointments documented in the Government Gazette.
Lists of licensees of hotels- Very common for women to manage hotels
Family stories- best if person left a diary or letters but also common where the woman lived to be very old and shared her stories with offspring. Can usually be fact checked.
Women's health
Information on voyage to Australia - ref. Health, medicine and the sea - Australian Voyages c.1815-1860, by Katherine Foxhall, Manchester University Press 2012. 
Hospital and asylum registers - see Public Record of Victoria collections
Sometimes women were committed to asylums by male relatives against their will, so asylum records could be misleading.
Sometimes death certificates were unspecific about a woman's cause of death i.e. a 19th century English certificate shows a 44-year-old woman dying of 'decay of nature'. Many times this reflects the toll taken by almost constant pregnancy or lactation.
Information relating to husbands and male relatives
Women usually had to follow her husband to different locations irrespective of whether they wanted to go. Literate women of slightly higher social positions could obtain work via the patronage of powerful male relatives - matrons of charitable institutions, post mistresses, school mistresses.
The group also shared many anecdotes of researching 'our' women, such as ancestors who followed the hereditary role of ladies-in-waiting to the queen and of another's ancestor who had her husband change his name to hers as a requirement of a Marriage Settlement to preserve her assets. 
And how to write our stories of 19th century women in the context of the times? By our standards her 'hard life' makes her a strong woman 'because she survived what would probably kill us'.
We reminded ourselves that as historians we need to 'choose to challenge' truisms to better understand and empathise with our ancestors.
The challenge to get their stories out there
Penny also challenged us to look for places to publish and preserve women's stories, such as municipal street naming, local historical societies, or contributing entries to the Australian Dictionary of Biographyor the Australian Women's Register. The RHSV this week launched their 'RHSV Women's Biographical Dictionary' recognising the role of many women in that Society. See https://www.historyvictoria.org.au/search-collection/rhsv-womens-biographical-dictionary/
*** 
The photo
Three sisters whose stories have not been told: Norma Holland, Stella Wilson and Vida Marguerite Winifred Ebbott.
One remained single; one a mother of one; and the other a 'Soldier Settler' orchardist's wife and mother of five, whose eldest son died in a Lancaster bomber over Germany. One of their brothers was Nellie Melba's piano accompanist.
(Photo: Courtesy W. Barlow)
Expiry Date:
Sunday, 12 September, 2021 - 09:45