Printer-Friendly View
By Karen Mather
One of the pleasures of family history research is to uncover the tracks made by our ancestors at a time when travel must have needed exceptional courage and endurance. For those who are not squeamish, cemeteries can often work as important hubs in joining up these networks.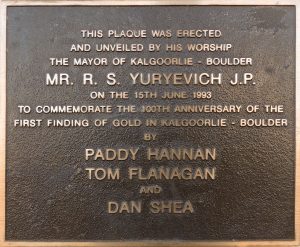 Town Hall plaque, Kalgoorlie, WA, 2016
In 19th century Australia, a rumour of a new gold prospect in another state would immediately send thousands of people trekking from shore to shore. Of course, not only gold-seekers and their entrepreneurial providers trod new paths. Explorers, surveyors, naturalists and settlers also criss-crossed the land, leaving fragments for family historians to piece together.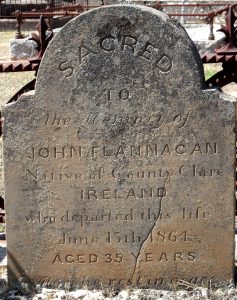 John Flanagan's grave, White Hills Cemetery, Bendigo, Victoria, 2016


John Flanagan (1829-1864) set out from his parents' farm in Ennis, County Clare, arriving in Melbourne in 1858, and within three years he and his wife, Margaret O'Halloran (1832-1916), were mining in Bendigo (aka Sandhurst). Of their three children only Michael (1862-1901) survived past early childhood, and John himself succumbed to tuberculosis in 1864.  His younger brother, Tom Flanagan (1832-1899), had by then arrived from Ennis, and, it was he who signed John's death certificate. John was buried in White Hills Cemetery in Bendigo.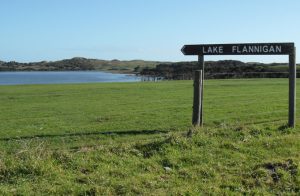 Lake Flannigan, King Island, Tasmania, 2017
Hobart next became an important junction on the network of Flanagan-family travels. Michael Flannigan (as he wrote his name in adulthood) qualified as a government surveyor in 1892, and then left the Mines Department in Melbourne for the Tasmanian Lands Department in 1894. 

In Hobart he gained a reputation as a highly professional surveyor and was appointed as the first District Surveyor for King Island in 1898. But, as with his father, his life was cut short by tuberculosis. He returned to Bendigo to spend his last months, in early 1901, with his mother, Margaret O'Halloran, now named Higgs and widowed for a second time. Ten years later his colleagues in the Lands Department in Hobart arranged for Big Lake on King Island to be named Lake Flannigan, in his memory.
Michael John Flannigan is buried in with his father, mother and sisters in White Hills Cemetery, but what has been little known until recently is that the biggest lake on King Island is his memorial, and further, that his uncle, Tom Flanagan, is buried in the same cemetery, but far away across the other side.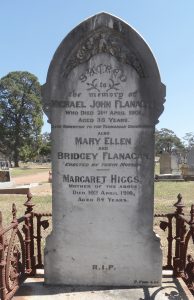 Michael Flannigan's family grave, Section E4, White Hills Cemetery, Bendigo, Victoria, 2016


The discoverers of the first gold at what has now become the astonishing Super Pit of Kalgoorlie, were three unassuming Irishmen, Paddy Hannan, the leader; Tom Flanagan, his regular prospecting partner; and Daniel Shea, an acquaintance who joined them on the way to Kalgoorlie. Their gains from the find were modest, and, as was usual for prospectors, they stayed only a few months before moving on.
Fame would come years later, after Tom had returned to lodge with his late brother's wife, Margaret O'Halloran, in Bendigo and had died there in 1899.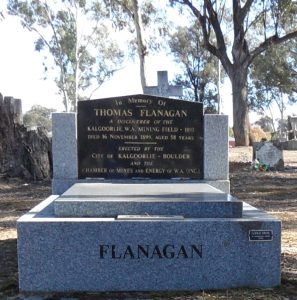 Tom Flanagan's grave, Section H5, White Hills Cemetery, Bendigo, Victoria, 2016


The linked stories of Tom Flanagan, and his nephew Michael John Flannigan and his friend in the Lands Department, William Nevin Tatlow Hurst, can be read in Wikipedia, and various history magazines. 
September, 2018
***
[All photos courtesy of K. Mather, 2018].
Expiry Date:
Monday, 25 March, 2019 - 21:45