What's in the current issue of Ancestor
December 2022 ( GSV Members can access this journal when they login as a member. Then click on the "Members Area" link)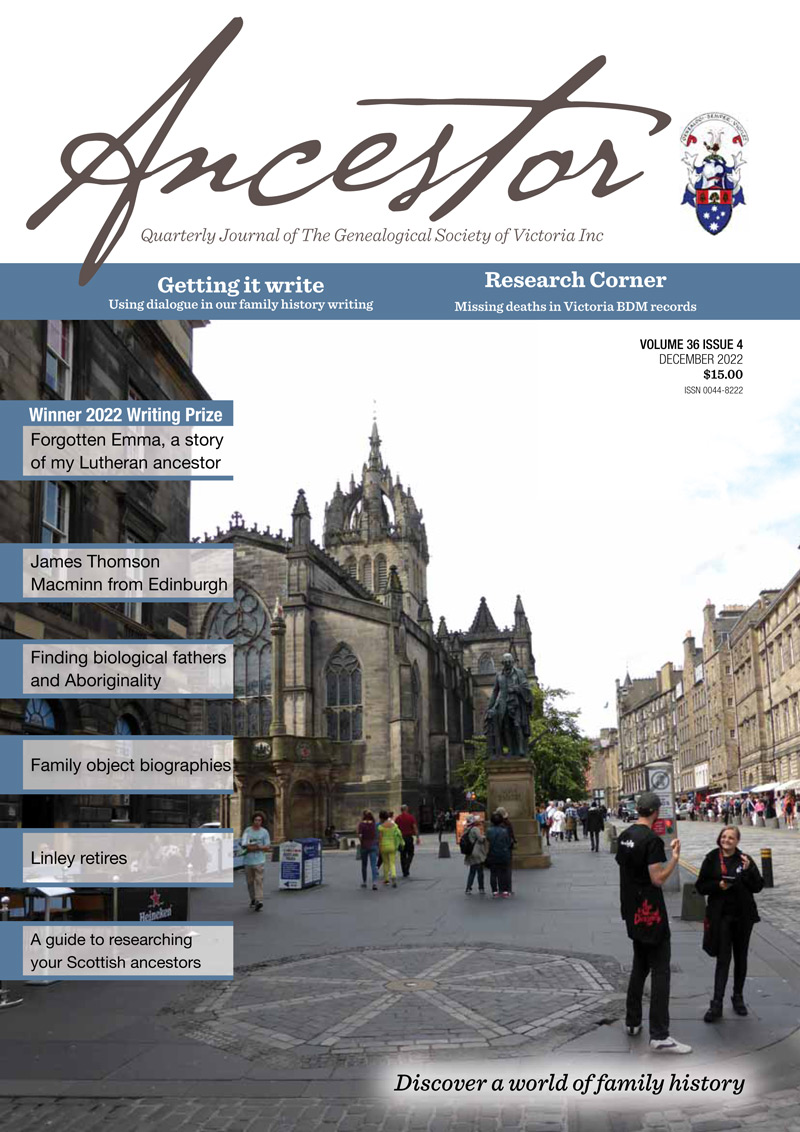 In this issue we publish the winning story from this year's GSV Writing Prize. Congratulations to Ian Penrose, the winner in this the tenth year for his story 'Forgotten Emma'. Set within the context of Lutheran migration to South Australia, his story uncovers the life of his ancestor Emma and discovers that her absence from family stories was probably not for the reasons he first suspected. A report of this year's Prize is given in this issue and the full Judge's Report can be read on our website.
June Torcasio's tale of the Macminns tells of their life both before and after emigrating to Melbourne in 1854, and takes us through some of the financial and emotional difficulties the family had to overcome. Following on from the article in our last issue, 'Researching Australian First Peoples ancestry' (Ancestor 36:3), in 'Finding biological fathers and Aboriginality', Gary Buck shows how to use DNA evidence to help explore a family story of Aboriginal heritage. We also include two short pieces on the theme of a family history object, one based on letters and one on a bread plate. The back page outlines the activities of the Ouyen District History and Genealogy Centre. 
Jane MacIsaac's 'Getting it Write' article covers the use of dialogue in family history writing, while Research Corner reports on additions to the Melbourne Hospital records that may help locate your ancestor's arrival in the colony of Victoria, and also lead to that elusive death record. The 'How to' article by Martin Playne and Alison Dennison provides an extensive overview of the many resources available for anyone in pursuit of Scottish ancestry. 
It's hard to imagine the GSV without our Library Manager, Linley Hooper FGSV, but she will have retired by the time you read this magazine. In her chat with Tina Hocking she reminisces about some aspects of her long association with the GSV and looks forward to her retirement. The Ancestor Editorial Team thanks her for her significant contribution to the journal with her regular features and articles. We wish her well in her retirement.
Editorial Team