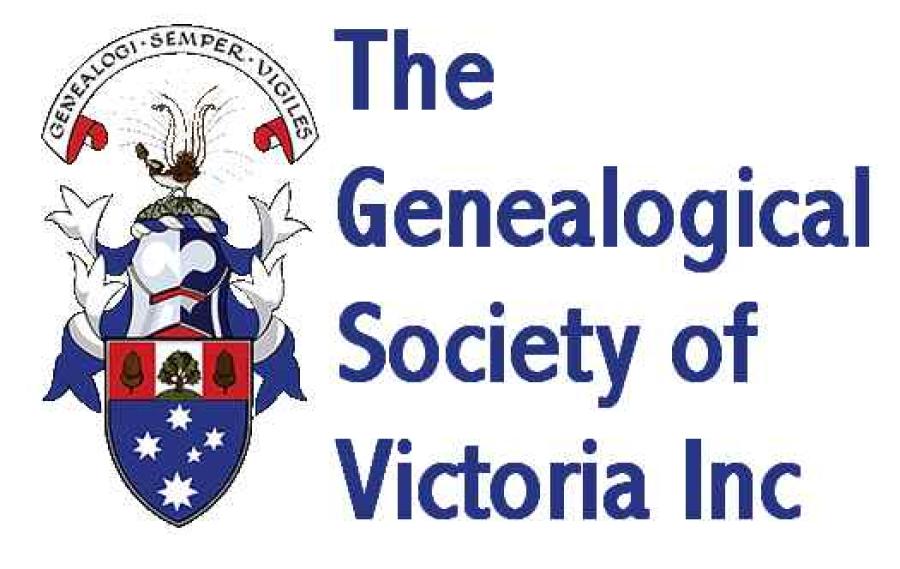 Rodney VAN COOTEN
Expiry Date
08 June, 2023
About the Genealogical Society of Victoria
The Genealogical Society of Victoria is a leading Australian family history society and exists to assist members in tracing and researching their ancestors and to promote the study of genealogy.
The GSV welcomes and supports members by providing the skills and experience to assist them to discover their family story. The Society's objectives are to:
provide focussed educational programs that are attractive to family historians,
maintain and develop our in-house research skills and knowledge in order to provide a service to our members and the wider community,
provide advice on the use of family history resources, and
catalogue and make accessible historical records of genealogical interest.
Our centrally located Research & Education Centre at Level 1, 10 Queen Street, Melbourne, includes a significant library of books, journals, publications, maps, films etc., and a large and rapidly expanding collection of digitised records/documents and online databases.
Members are guided and assisted by experienced volunteer research assistants. Other services include presentations, classes and discussion circles (accessible from home via Zoom), forums, commissioned research and more.
The Opportunity
The GSV is seeking a highly motivated professional, passionate about working in the genealogy field.
This position is a permanent 0.4 FTE (14 hours over set days per week, Tuesday to Friday, days to be negotiated). This is a shared management position (both 0.4 FTE) with some distinct areas of responsibility.
Salary $28,000 ($70,000 FTE) plus 10.5% superannuation with 4 weeks FTE annual leave.

Key Responsibilities
To manage, develop and promote the library's research and education resources.
To organise and support library research volunteers by mentoring and assisting them to develop their skills in information service provision.
To proactively engage with members to maximise their use of resources, databases, equipment, technology, and online platforms.
To provide high-quality service to ensure members have a positive experience characterised by active engagement.
To contribute and work effectively within a team environment with other staff and volunteers.
About you
To be successful in this role, you will be a 'people person' with enthusiasm and high-level communication skills to effectively work within a team and/or individually with members.
Highly desirable is knowledge and/or experience of family history resources and database searching.
Familiarity with Lucidea Inmagic Presto software would be an advantage.
You will also have
Relevant tertiary qualifications and/or equivalent combination of relevant experience and education/training.
Relevant experience in developing and maintaining local or family history resources, digital collections and databases.
Ability to creatively use a range of social media and multimedia technologies, including collaborating on the creation of web pages, blogs, wikis or multi-media communications.
How To Apply
If you require further information about the position, please contact Stephen Hawke at president@gsv.org.au
Applications must include a resume and address the key responsibilities outlining your suitability for the role. Please supply contact details for two referees.
Applications close on Thursday 12 January 2023 and must be submitted to president@gsv.org.au