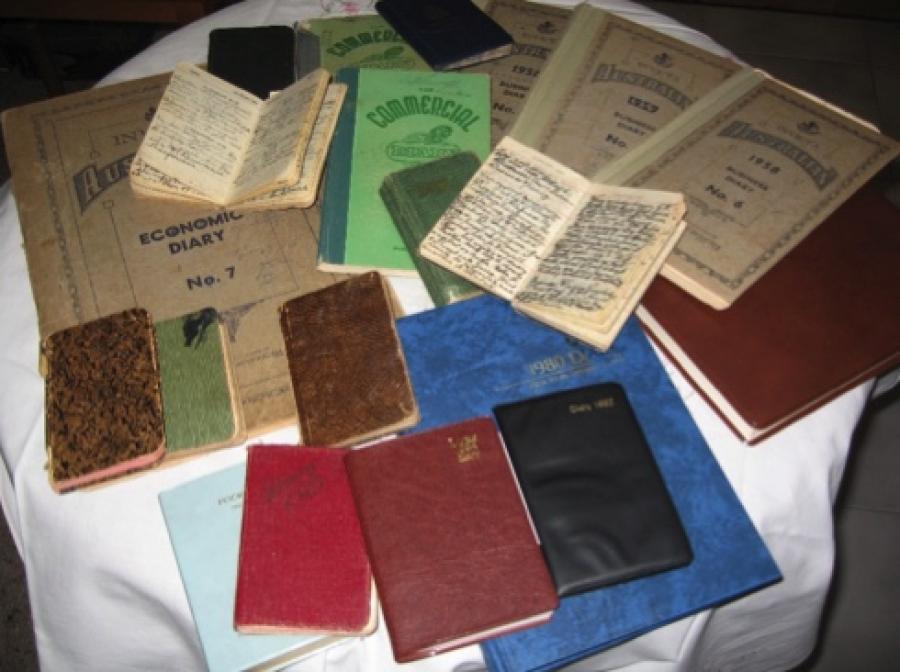 Dad's farm diaries (W.Pfeifer 2015)
If only we had time to record the stories behind all those family objects collecting dust on our shelves! Oh, I guess we have now! I re-found a silver 5 franc 1840s coin that had been re-purposed by my great uncle in WW1 as an identity disc. Many men improvised extra identity discs and it was two years into the War, before two discs were ordered to be worn to help with identifying mutilated bodies. So this week I photographed it and wrote a short summary of its origin. If I cannot pass it to a direct descendant, the Australian War Memorial confirmed they would be pleased to accept it. Week 1 of stage 2 lockdown and one object recorded. Many to go!
A few years ago, Wendy Pfeifer, GSV member, wrote a lovely description about transcribing her father's farm diaries.* This is a great inspiration.
My Dad's Diaries
I am slowly transcribing my Dad's diaries, which he had kept from 1931 until his death in late 2009. He had his first diary given to him for Christmas 1930 by his Aunt Emily when he was nearly fourteen years old. This was the year he finished attending his local primary school. While working on the family farm at Telford, he continued further education by correspondence.
Those early diaries are like reading a history book, as he mentions flights of Kingsford Smith's planes Southern Cross and Southern Cloud along with the many political affrays. He also paints me a word picture of what life was like then, especially within the family. All the horse farm work is there, in detail, along with his sport and shooting adventures. Dad loved riding his bike and all his times are recorded when he raced at local meets. His poor sisters are only mentioned when they got taken to school or collected the mail. Dad always said that his Dad spoiled the girls because he was made to walk the three miles to school. He forgot to add, he got his first bike when he was six and could ride that to school. His sister gave me this information many years later.
I now know what the weather was like from 1931 to 1981, with a few misses. Each night when he had finished work, out on the farm, the last thing for the day was to sit with his feet in or on the stove and write his diary. I can pick the days when he must have been exhausted because after the weather entry it just states 'shearing' Other days there is a long involved series of events, including which paddock he was working in. The information was copied from his 'Cooper' books.
Over the war years his diaries do not exist, so I do not know if they were ever written. I have only one for 1943 when he left the RAAF base at Townsville and returned to Melbourne by train. He was a patient at the Repatriation Hospital based at the Ascot Vale Show grounds for many months. Then we are missing some which I know were in my parent's home, but my mum did not like his frequent comments 'I will look that up in the diaries' so I think she moved some to the rubbish bin.
I do have all the ones from 1946 on to the 1980s, when he sold the Soldier Settlement farm in Western Victoria and moved back to the Shepparton area. They have made me smile as I have been transcribing them, because I know how hard life was at times, but he could be so dry and factual. The weather is the first entry, then farm work and at the end of the day's entry we might find 'baby born'. 
As a small child I remember being fascinated by how the men in my father's family seemed to know what had happened 20 years ago, as if it was happening today. I was often allowed to draw in their Cooper's books. These were small books produced by Cooper's Dips, which were given to farmers each year. They were small enough for farmers to keep in their top pocket. They would also have this small pencil in the same pocket. These books were used to keep the running numbers, tallies or wages while they were out on the farm. If we, as small children, were good in church we were allowed to draw in my Grandpa's Cooper's book.
My Dad kept all his 'Coopers' books. Each year's books contain treasures of animal and fodder prices for me to still research. I doubt that he ever realized the treasure he left for us; his children and grandchildren, to understand what life could be like.
***
* This article was originally published in FiftyPLUS News, January 2015.