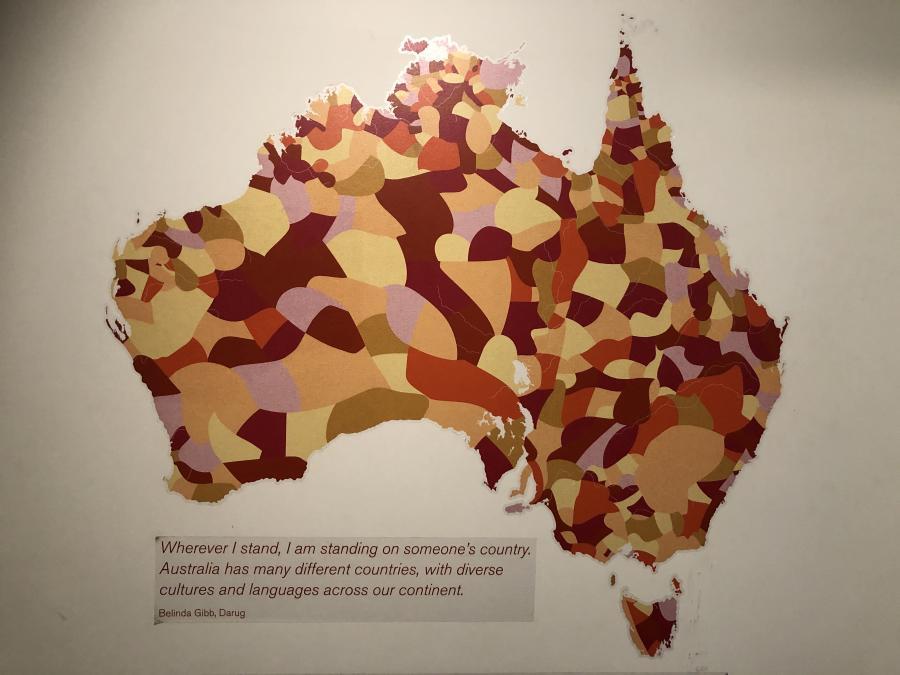 Wall map Australian Museum, (photo: L. Wilson)
We acknowledge the traditional owners of the land on which the Genealogical Society of Victoria currently stands, the Wurundjeri people of the Kulin Nation, their Elders past and present, and those young people destined to become leaders.
In NAIDOC week this year the GSV Writers were challenged to think more about how we include Aboriginal People in writing our stories. This will involve thinking deeply about the nature of the encounters with our European ancestors and also the possibility of our descent from Aboriginal People. 
There were very few European women among the first free settlers and assigned convicts in the early years of inland NSW. But on his trip in the Wellington District in 1845 Thomas Mitchell was assured by one lonely shepherd 'that there were shepherdesses in the bush'. Mitchell reflected that: 'This startling fact should not be startling, but for the disproportion of sexes, and the squatting system which checks the spread of families...Indeed if it were an object to uncivilise the human race, I know of no method more likely to effect it than to isolate a man from the gentler sex...' Mitchell of course was only seeing European women as 'the gentler sex' - and for that matter, was only seeing women as the gentler of the sexes. 
Investigating our early ancestry in Australia is difficult. In NSW there was no requirement to register marriages and births before 1856 (earlier in some other States) and baptisms were voluntary and difficult in outer regions. In 1839 there was only one clergyman in the seven counties west of the Blue Mountains to conduct baptisms.
So records may not help us and science is also limited. 'Mitochondrial DNA is a reliable source of genetic information about Aboriginal ancestry, but it can't help at all if your Aboriginal ancestors sit anywhere else in your family tree. It is only useful to track direct from mother to grandmother to great grandmother and so on.' (The Conversation).
From the earliest days of settlement there are many examples of Aboriginal people taking on or being given European names. Neddie Barlow, an aboriginal man on the Bogan River, reputedly received that name from his having saved the life of a stockman. Clendinnen (Dancing with Strangers) tells how Baneelon aka Bennelong bestowed upon Gov. Arthur Phillip his own tribal name and adopted his. 
And the names of most individuals involved in the frontier wars have not been recorded.
Author, Louise Wilson set out this challenge to the GSV Writers and all family historians, 'Our Forebears and the Indigenous Population' 7 July 2021:
'We grew up in an era which largely ignored our First Nations peoples. My photo of the map on display at the Museum of Australia in Canberra, an artistic depiction of our country's First Nations, contains a clear message to us all.
Almost everyone researching their Australian ancestors will find points of interaction with our indigenous population. I'd like you to think about where and when these interactions might have happened in your own family. A member of our GSV Writers group has told me of his astonishment ten years ago when he first viewed the von Guérard painting from 1854, Aborigines met on the road to the diggings,'...since I'd never given a moment's thought to what sort of encounters my 1840s-1850s lot must have had in the Port Phillip District'.
Many of us have now given much thought to this topic. At the very least we should know the names both of the Aboriginal land where these encounters occurred and the language spoken.
You might also like to view Dr Richard Broome's talk to GSV members last year entitled 'Frontier encounters: Aboriginal victims and voyagers in Victoria', now a webcast accessible for members via the GSV catalogue.
How to write about this topic is another matter – or do we ignore it, because we don't quite know how to approach it? Historical societies often publish lengthy articles about a house or a settler family without any mention of the original owners of the relevant land.  My book Sentenced to Debt: Robert Forrester, First Fleeter devotes about 12% of the story to my forebear's interactions with the local Aborigines. But were they Dharug or Darkinung? There is often no accepted terminology. 
In Guilty and Lucky Bill Barlow describes the Wiradjuri people of his forebear's district in western NSW, and again in his essay dated Oct 2016 What did my great-great-grandfather do in the war?
Are our 'Welcome to Country' messages meaningful? There are many different approaches  - for example the RHSV says 'We acknowledge the traditional owners of the land on which the Royal Historical Society of Victoria currently stands, the Wurundjeri people of the Kulin Nation, their Elders past and present, and those young people destined to become leaders.' The acknowledgments offered by your local Council, the Melbourne City Council, the ABC, SBS, Gardening Australia and the GSV all vary greatly.  
But ownership is a lot more complex than that, as I discovered recently when I attended 'Pre-European Aboriginal culture in the Camberwell area', a Zoom presentation by Dr Gary Presland to the Camberwell Historical Society on 25 May. 
How can we present the truth in our own family history stories?'
***
Louise Wilson is a member of the GSV Writers Circle and the author of nine books of biography and family history. https://www.louisewilson.com.au [Ed.]
References
NAIDOC - National Aborigines and Islanders Day Observance Committee. In 1991 'Islanders' was added and the 'Day' became a week. See history https://www.naidoc.org.au/about/history
Thomas Mitchell, Journal of an Expedition into the Interior of Tropical Australia, Longmans, Brown and Green, Lond. 1848
Bishop of Sydney in 'Religious wants of the Colonies - New South Wales', Sydney Morning Herald, 16 Oct 1840.
'A DNA test says you've got Indigenous Australian ancestry. Now what?' by E. Watt, E. Kowal, and S. Lehmann, The Conversation[online], 3 May 2018, assessed 18/7/2021 https://theconversation.com/a-dna-test-says-youve-got-indigenous-australian-ancestry-now-what-95785
Inga Clendinnen, Dancing with Strangers (new ed), Text, 2005. 
For a detailed map see AIATSIS 'Map of Indigenous Australia' [website accessed 18/7/2021] https://aiatsis.gov.au/explore/map-indigenous-australia
For the words we use to write about what we find, see also AGPS Style Manual https://www.stylemanual.gov.au/accessible-and-inclusive-content/inclusive-language/aboriginal-and-torres-strait-islander-peoples
***
Expiry Date:
Wednesday, 19 January, 2022 - 11:00