Printer-Friendly View
GSV Cemeteries Index
This index contains nearly a million references from cemetery records mostly relating to Victoria. It includes memorial inscriptions or burial registers from our collection.
The Society has been transcribing cemetery records since the 1950s and although there are now online websites for cemeteries (with many including photographs), some of those early headstone have disappeared or become illegible or even destroyed by vandals.
So make sure you try this database. 
Members may use our free Quick look-up to obtain further details in many cases.
A fee for a Quick look-up is charged for non-members. 
An Example of an entry in GSV's Cemeteries index.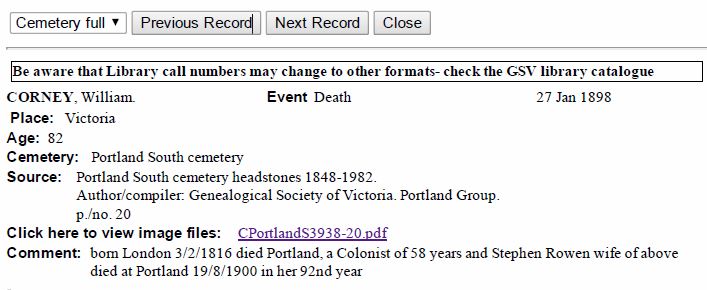 Cemeteries index Access for: