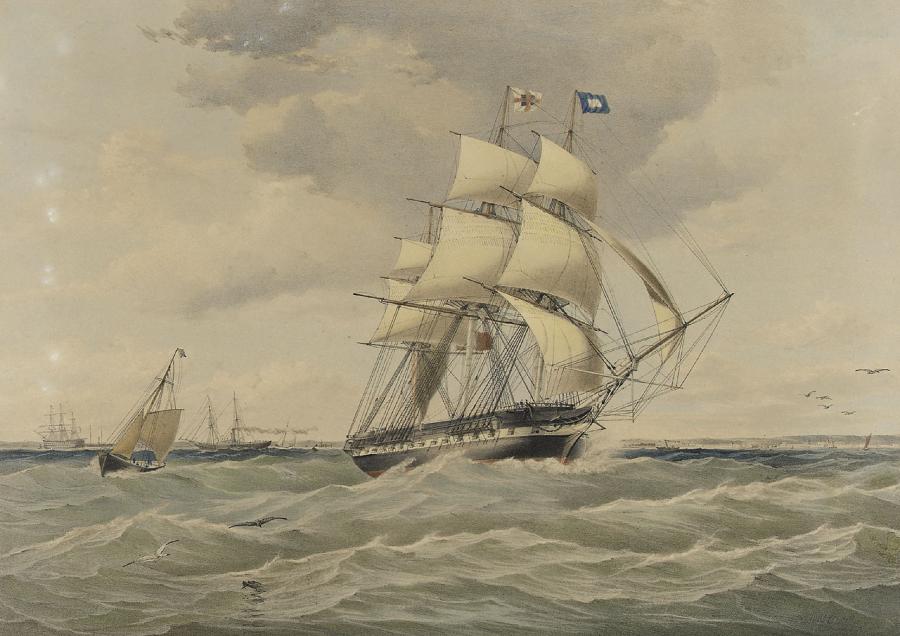 Bill Barlow
Expiry Date

Mary Anne Gourley tells this research story from the GSV's British India Discussion Circle, of the return of two young boys from India to England in 1857.
See more about this group for GSV Members HERE.
***
The August meeting of our group proved successful for Laurette McWhirter in overcoming a frustrating brick wall and finding long sort information regarding two young ancestors.
Laurette was anxious to confirm the arrival in the UK of the two young boys sent back from India at the beginning of 1857 after their mother's death. I should add here that their father died in the fighting not long after their departure.
During the voyage the boys were under the care of a Mrs Balfour; also returning to England with her children. Confirmation came years later when the boys' maternal grandfather filed an affidavit in a family court case detailing their safe arrival.
In her research, Laurette had found information that two ships left India in February 1857 both carrying a Mrs Balfour accompanied by children: The Agamemnonwith Mrs Balfour & three children, the Sutlej with Mrs Balfour & four children.
FIBIS database list the Agamemnondeparting 8 February and the Sutlejdeparting 5 February. 19th Cen Periodicalsfound on NLA website also has this same information.
We solved this mystery using British Library Newspaper Archive(available at the GSV) and the newspaper Homeward Mail from India. Appearing on the same page are the passenger arrivals for May 1857: the Agamemnonwith Mr & Mrs Balfour and three children as passengers disembarking at Gravesend on 23 May and the Sutlej arriving three days later includes the name of Mrs Balfour and two children.
But we knew from both the FIBIS database and 19th Cen Periodicals that there were four children accompanying Mrs Balfour. The mystery was solved when we scrolled to the end of the passenger list, which gives details of accompanying older children including 'two Master McWhirter'.
Having succeeded in solving this brick wall for Laurette let's see if we can solve others at our final meeting for 2019 on 19 November.
Mary Anne Gourley
Convener British India Discussion Circle
***
Image of the ship Sutlej, coloured lithograph by the artist William Foster, used with permission of Royal Museums Greenwich, UK. Object PAH 0600 [CC BY-NC-ND].