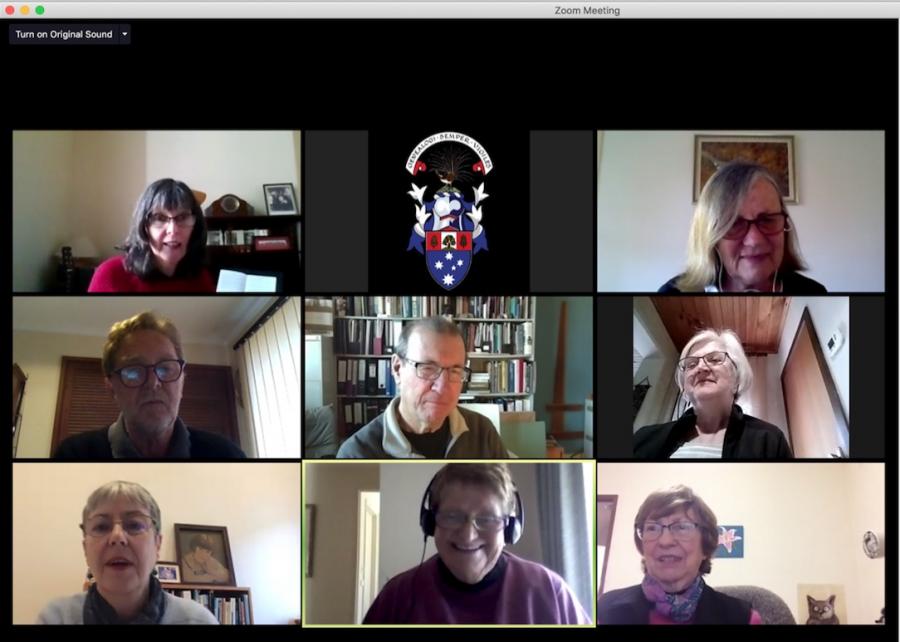 A number of the GSV Discussion Circles have now run their first get-togethers on Zoom. This month the GSV Writers conducted a writing exercise - 'Shut up and Write'- that culminated in a Zoom session to discuss their experiences. 
Penny Mercer, the convener describes the session and this technique, aimed to get us writing and actually producing something.
***
To ensure we were organised to write, we all had to choose a topic that would, achievable, similar to the short pieces we normally share for review.
First we were asked to prepare by organising our relevant research notes and information and creating a bibliography of our sources. The goal was to have everything we might want to consult ready to hand when writing. 
We read about the Pomodoro technique: https://thesiswhisperer.com/2011/06/02/another-way-to-write-1000-words-a-day/then applied this to break up our topics into smaller chunks.
We were counselled to remove distractions; turning off our phones, closing all other windows on our computers, clearing our desk, advising anyone else in the house that we needed some concentrating time. 
On the day, everyone had to follow these instructions:
Remove the distractions identified previously.

Set timers for 25 minutes and write, trying not to stop until 25 minutes have passed. Then do a word count at the end of the 25 minutes.

After 25 minutes, have a break for 5-10 minutes - coffee, chocolate biscuits, stretch, pat the cat, do whatever creates a mental break and a reward for your hard work.

Repeat steps 1-3.
5. Optional repeat again. And again, if it's going well.
   We had some ground rules:
Don't listen to your inner critic. Just keep writing.

You are not aiming for perfect words and sentences. Editing can be done later.

Focus on getting a first draft done of an achievable chunk.
All those who too part wrote something that we might not have written without this exercise. Having a deadline helped. It also helped to have committed to write something.
We all also agreed that assembling all your information beforehand makes it much easier. We agreed that a timer going off in the middle of a paragraph was annoying, and that it was better to finish that section rather than interrupt the flow.
Some of us found it helped with finding our 'voice' and with writer's block. It was easy to just move on to another section to keep the writing flowing. Missing information was just noted for adding afterwards. 
One of us discovered freedom in removing the need to write perfect grammar, punctuation and spelling: "… the words rolled out in the second allocated time. Sitting there saying "I'm here now, tidy me up later, thanks very much!"
Everyone knew that whatever they wrote was just for their benefit. No-one else would see it unless they choose to share it. Since then, most of us have polished up our stories and shared them. 
Most of us were very satisfied with what we had achieved and are keen to repeat the exercise. 
Of course it's important to remember that it's not really finished until it is published or disseminated!
***
More events are scheduled to be available by Zoom and the GSV is working at offering other talks and presentations online. Check the Events list on the GSV website home page and also look at a previous blog 4 July about using Zoom HERE.
It is not hard - even writers can do it - and it is fun to see people again.